New engine bracket reduced noise and vibrations in Hyundai car
In 2013 - 2014 under a research contract, we collaborated with
Hyundai Motor Europe Technical Centre GmbH, in Rüsselsheime
on a study of new material applications in automotive industry to reduce noise and vibrations. The primary question was whether an engine bracket filled by aluminium foam could sufficiently reduce vibrations transfer to the axle.
In our institute, we developed automotive engine bracket of a new hybrid type that combines the aluminium foam with a thin pore free surface layer cast from aluminium.
Prototype tests of our engine bracket confirmed practically complete elimination of critical vibrations in real conditions after installation into the vehicle. Moreover, our engine bracket had slightly reduced cost and weight compared to the original one.
The engine bracket prototype was manufactured using novel casting technology. The new technology is readily adaptable for production of different types of car components, and is not significantly limited by their complexity, size and volume of mass production in contrast to the currently used technologies.
At this time, patent protection and transfer into practice are under preparation.
---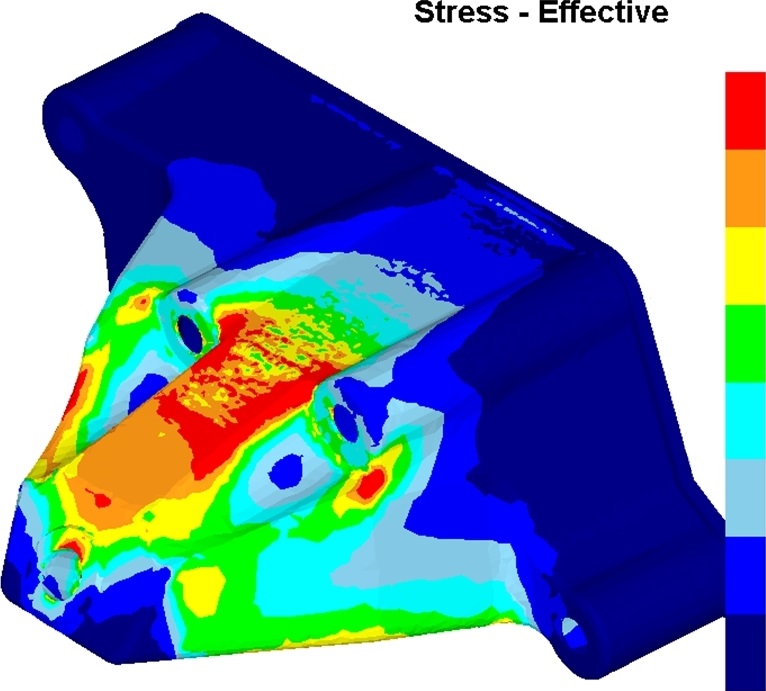 Finite element method strength calculation of the motor bracket hybrid casting. The most stressed locations of the bracket are marked in red.